Andrew Brookes' Top Style Tips for Working from Home
12 August 2020
Most of us are now adapting to working from home during the current situation. A new aspect of this for many of us is the need to make video or conference calls to stay in touch with colleagues and customers. So to help make sure you feel confident and look your best, here are some of our top Style Tips for people working from home.
"
Dressing Well Is A Form Of Good Manners
" –
Tom Ford
1 – Natural Light
If you can, set out your desk or table facing a window. This will allow natural light to reflect on your face. If not, a table lamp on your desk that can give more light will do as well. Be aware of what's behind you in the room you're working in too – try and avoid messy bookshelves, clothes drying racks or any personal photos that you don't want colleagues or customers to see.

2 – Upper Casual
When you're working from home, your upper causal wardrobe is key. What works really well here is a combination of shirts and T-shirts mixed with knitwear and comfortable tailored jackets on top, with jeans and chino-type trousers on the bottom half, finished off with loafers, sneakers or trainers.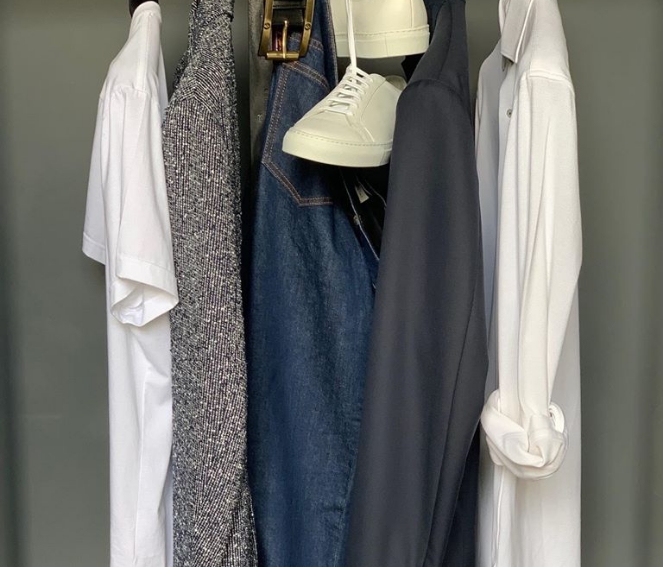 3 – Beautiful Basics
Making sure that you have the basics is key to any workable wardrobe. Pair crisp white shirts and T-shirts, fine gauge V-necks, crew-neck jumpers or cardigans in navy or grey, together with a must have-blue or grey blazer with dark blue jeans, blue or beige chinos.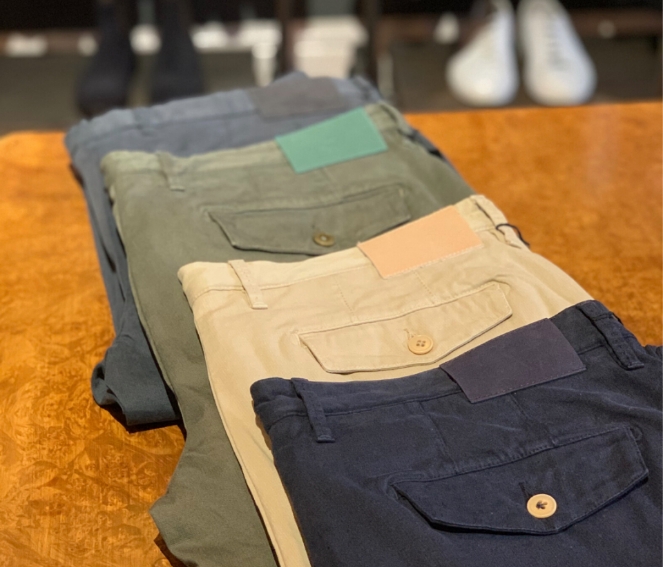 4 – Comfort With Jackets
It's important that you're comfortable when you are wearing a jacket sitting down, either typing or writing. This lends itself to an easier cut, more unconstructed feel with no shoulder construction and a stretch wool/cotton fabric for ease of movement and softness. This lets your shoulders and back move more freely and feels more relaxed and leaves you room to be able to layer with knitwear as well. T-shirts worn with a jacket can give a more casual look to a business meeting as well. A quality T-shirt in navy with a navy jacket can give a casual but dressy feel as well because of its depth.
5 – A Crisp Shirt
A cool, clean white long-sleeved shirt look, open to the neck, looks great with a white round neck T-shirt underneath to give a layered look. You can button your sleeves as normal for a dressier look or roll them up for a more casual approach. You could add a navy or grey jacket on top to add a more business look. A strong light blue shirt would work well as the second colour I would recommend, as it still has a business feel but looks soft and clean. Avoid all wishy-washy coloured shirts or T-shirts as they will make you look washed out.
6 – Confidence With A Collar
I design a lot of shirts that have bigger collars because, in a world where we are wearing less ties, a bigger full-bodied collar has its own personality and is now the replacement for the tie. It's angular, sharp, strong and has a confident feel and is the focal point when you are making video calls. I would recommend an 8cm button-down or button-under to give the collar a full feel to the front and stand up or an 8-9cm semi- to full-cutaway for good length but more comfort on the neck. This can be worn with a tie as needed. Wearing a double-cuff shirt open to the neck with great cufflinks would give a good business look as well, as your wrists and hands are in front of you and closer to the camera screen
7 – Knitwear
I have always been an advocate of timeless, well-fitted fine gauge merino wool knitwear. Whether it is a V-neck, crewneck, three-button shirt, waistcoat or cardigan, they all have their part to play over a shirt or T-shirt or as a layering option under tailoring. Again, a good white T-shirt looks great underneath any of these garments, while the three-button shirt option is a great standalone piece under tailoring to give a softer European look. Because of the lightness of fine gauge merino wool, it is like a second layer to the skin and is functional, breathable and washes really well.
8 – Be Remembered
When I am styling clients, we always talk about how you are going to be remembered. It goes without saying that paying attention to your hair and nails is a must, but having a great pair of glasses and a quality pen you can hold all give the right impression. From watches to male bangles and bracelets, they all have a part to play in giving you an edge and defining your personal style.
I hope these tips will help you get the basics right, feel more confident and leave a great lasting impression.
And in these uncertain times, the most important thing we can all wear is a smile.
Keep well and stay safe everyone,
Andrew Brookes