Andrew Devlin gets his 'clad rags' on.
31 March 2017
A huge part of our business and the service we offer is based around relationships. With the advances in technology and the importance of online marketing and social media in today's world, people tend to almost forget about how much influence word of mouth has. This next blog looks at one of our clients who came to us through a relationship we have with another one of our clients.
On meeting Andrew it was evident that he was a naturally confident man, with the charisma to carry any kind of tailoring, giving us a totally blank canvas with a variety of different routes we could go down to tailor to his vibe. As we got to know Andrew a bit more, it was clear he had a great eye for detail and really appreciated top quality cloth.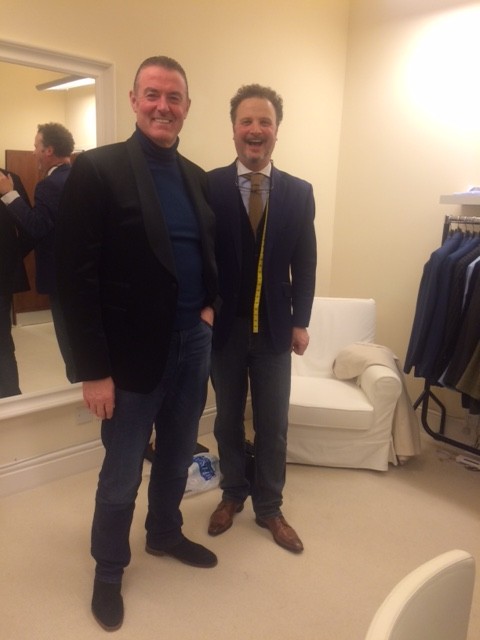 For me the most important point in designing is to capture the personality of the customer and bring this out in his sartorial elegance and tailoring, so my first though was to achieve a slimmer silhouette and give him as much shape as possible to show of his height and long legs and let him use his height to his advantage.
For the material for the jacket we decided to use fine waffle velvet from Scabal's Festival Dinner range. For those who don't know, Scabal are one of the premier cloth manufacturers of cloth in the world Founded in 1938 by Otto Hertz. Originally a cloth merchant and supplier of fabrics. supplies cloth to the stars and to such films as James Bond. The trousers are also a Scabal fabric which is pure wool super 150's Italian woven which is light, has excellent weight and drape and great crease resistant properties.
The lining is a black paisley from the Elegance range of unique linings from Dugdale Bros in Huddersfield, who are an amazing family business run by Robert and his father Keith Charnock. Since 1896, Dugdale Bros & Co has been making the finest cloth for the most eminent tailors.
Now, let's take a closer look at the jacket. We thought it would be best if we slightly widened Andrew's lapel to show off his shoulders better, lifting his jacket waist slightly higher so the jacket will naturally button at the slimmest point of his waist, shortening the arm hole depth, which in turn creates more length to the side of his body, shortening the the jacket length to show off his legs more, slightly turning the chest dart and slimming this sleeves all makes for cleaner, slimmer silhouette. "I was introduced to Andrew by Gordon at fatBuzz and it has been such a fantastic experience dealing with a true professional who has made it his goal to ensure I out dress Mr. White – Only kidding, however Andrew takes his role very seriously and I look forward to a longstanding relationship going forward". – Andrew Devlin, Curtis Moore.
The trousers have a comfortable waist that we achieved by making his rise between crotch and seat slightly longer for his fitting. I have still cut the trousers slimmer from under his bottom, down past his upper thigh, knee and calf which results in a narrow trousers cuff which is then angled from front to back for the perfect trousers hem length.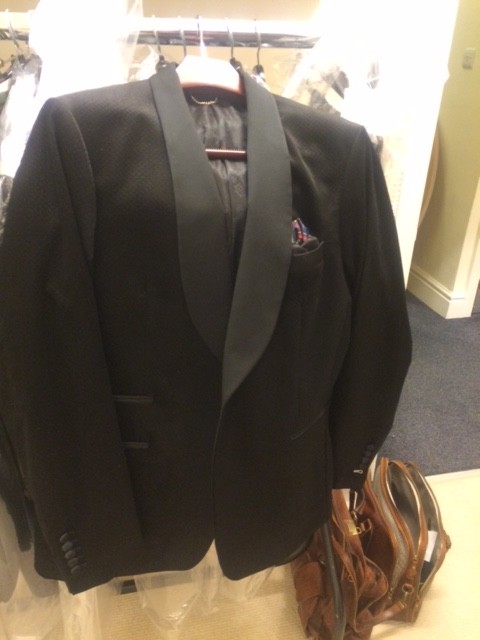 The jacket has a black silk faced lapel, pocket jets and buttons which all match the dinner line down his trouser. An extra small right ticket pocket adds effect for the silk look.
We have working cuffs which unbutton with the lining showing (flashing) and contrasting button holes all make the cuff an event rather than an after thought. The inside of the jacket has a twisted piano lining which has been pipped in cream with a Columbia stitch in cream for that hand made effect.
The inside pocket jets are all contrasting as well. I have added two ticket pockets, one on each side, so if you are out at a function and give someone a business card, you have a separate pocket to put their card in as well. I believe the inside of the jacket should be as much an event a the outside.
If you found this post interesting, don't keep it to yourself. Please with your friends!