How to Match Shoes with Suits: All-Encompassing Guide
29 August 2023
Dressing well shouldn't feel like rocket science. However, when pairing together a suit and shoes, one should at least understand the significance and impact the proper shoe and suit combination can have on your overall appearance. In this comprehensive guide, we'll cover everything you need to know about matching shoes with suits, from understanding the basics to nailing the perfect combinations for various occasions.
Should Shoes Match The Suit?
An age-old fashion question: should your shoes match your suit exactly? While it's essential to coordinate your shoes with your suit, they don't necessarily have to be an exact match. Oftentimes, too matchy and your overall outfit can be rather lacklustre and void of any personality. Instead, you should aim for complementary pairings that enhance your outfit while showcasing your individual style.
What Are The Different Types Of Suit Shoes?
Before we get into combining the right shoe colour with your suit, let's explore the various types of shoe styles. Below are some of our favourite and most versatile styles.
Oxford shoes: Oxford shoes are eponymous with sophisticated, timeless formal wear. They feature closed lacing, a sleek silhouette and a low heel. They pair best with tuxedos and three-piece suits.
Derby shoes: Derby shoes are less formal than Oxford shoes but retain an abundance of elegance. They have open lacing and are versatile across many suit styles.
Monk shoes: The absence of laces in monk shoes offers a contemporary yet formal look to any outfit. Wear with suits for formal occasions and special events. 
Brogues: brogues are characterised by their decorative perforations and add a touch of personality to an outfit. They can be found in both Oxford and Derby styles.
Loafers: loafers are slip-on shoes that strike a balance between formal and casual. They can range in material from leather to velvet.
Dress boots: Chelsea boots and chukka boots are the most popular style of dress boots. Both exude a modern and sophisticated look to an outfit and can help inject personality into an outfit.
Which Type Of Shoe To Wear By Occasion?
The shoe style you choose will be heavily influenced by the occasion. Below are some guidelines to follow.
Formal events: For black-tie, tuxedos or black suits, opting for classic black oxford shoes are most appropriate and will elevate the overall elegance of your suit.
Business events: For business events and meetings, classic Oxfords, Monk shoes or Derby shoes will exude professionalism and are suitable for most business settings.
Weddings and special occasions: For weddings and special occasions such as engagement parties, christenings etc, Oxfords, Derby, Monk shoes, Chelsea boots and chukkas are again the ideal choices. Keep weddings reserved for Oxfords and Derby shoes, however.
Casual/semi-formal events: For those semi-formal or casual events, opt for loafers or dress boots, for a more laid-back but sophisticated look.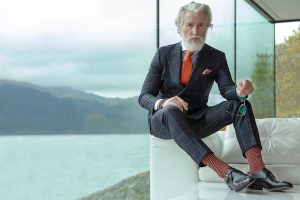 Which Colour Shoes To Wear By Suit Colour?
Now we've established the predominant shoe styles, we can delve into the specific shoe combinations that will work best with certain suit colours.
What Colour Shoes To Wear With A Black Suit?
Black suits are amongst the most classic and versatile. For a formal look, always choose black Oxford or patent leather shoes. However, for a slightly less formal option, you can wear dress boots or loafers. However, we always recommend the all-black look, no matter the suit-shoe style combination.
What Colour Shoes To Wear With Navy Suit?
Navy suits offer more flexibility in shoe choices. Brown Oxford shoes or Derby shoes are complemented best with a navy suit and create a warmth and sophisticated contrast, highlighting richness and depth in each shade.
What Colour Shoes To Wear With A Blue Suit?
Like navy, blue suits work best with brown shoes or lighter tones shoes. We recommend a lighter shade than you would opt for with a navy suit, such as tan, brown or light grey, as these shades add a fresh and light touch to a spirited blue suit.
What Colour Shoes To Wear With A Grey Suit?
For most shades of grey suits, whether it be dove, charcoal or anything in between, black shoes offer a classic and polished appearance. You also run less chance of undertone mismatch when sticking with black and grey.
What Are The Winning Combinations For Men?
We don't believe in a one style fits all combination, we always encourage personality and individuality in everything you wear. That's why we've compiled a list of winning combinations so you can find a look that suits you. Below are some winning combinations.
Navy suit and brown shoes: a timeless and stylish look suitable for various occasions, including weddings and business wear
Charcoal grey suit and black shoes: a winning combination for formal events, including groomswear.
Black suit and black loafers: occasions such as parties call for this combination. Swap out the loafers for black Oxfords or brogues for a more formal finish.
Tan suit and dark brown brogues: a tonal look that will add a touch of individual style. Wear this during summer/spring events.
Plaid suit with black Oxfords or dress boots: when wearing a patterned suit such as plaid, windowpane or houndstooth, pair it with black Oxfords or dress boots for a sleek finish that is still dapper enough to showcase your individuality.
Remember, these are guidelines and true fashion is about experimentation and expressing your unique style. With practice, you'll be able to master the skill of matching these two articles together so you're ready for any event at any given time.
For more inspiration and ideas on styling, visit our studio or online today. You can also browse our bespoke accessories page here.