Top 10 Groom Wedding Suit Trends of 2023
5 April 2023
You've arrived here because you're getting married! First, we'd like to extend our congratulations on your upcoming wedding. Second, we want to ensure you're looking your absolute best on the big day by letting you in on our predictions of the next big wedding suit trends for 2023. Read on to find out more.
1) Bold, Expressive Colours
Dare to be bold in 2023. Discretion is out and we're embracing the spotlight with vivid and vibrant hues to express a strong sense of style this year. 
Utilising interesting patterns and colour combinations is a great way to uplift your spirit and brighten the world around you this wedding season. Try out soft pastels for a bright yet sophisticated edge for spring/summer and opt for a rich burgundy or a stately green in autumn/winter. Graphic patterns and colours are a great way to establish your presence whilst still retaining refinement.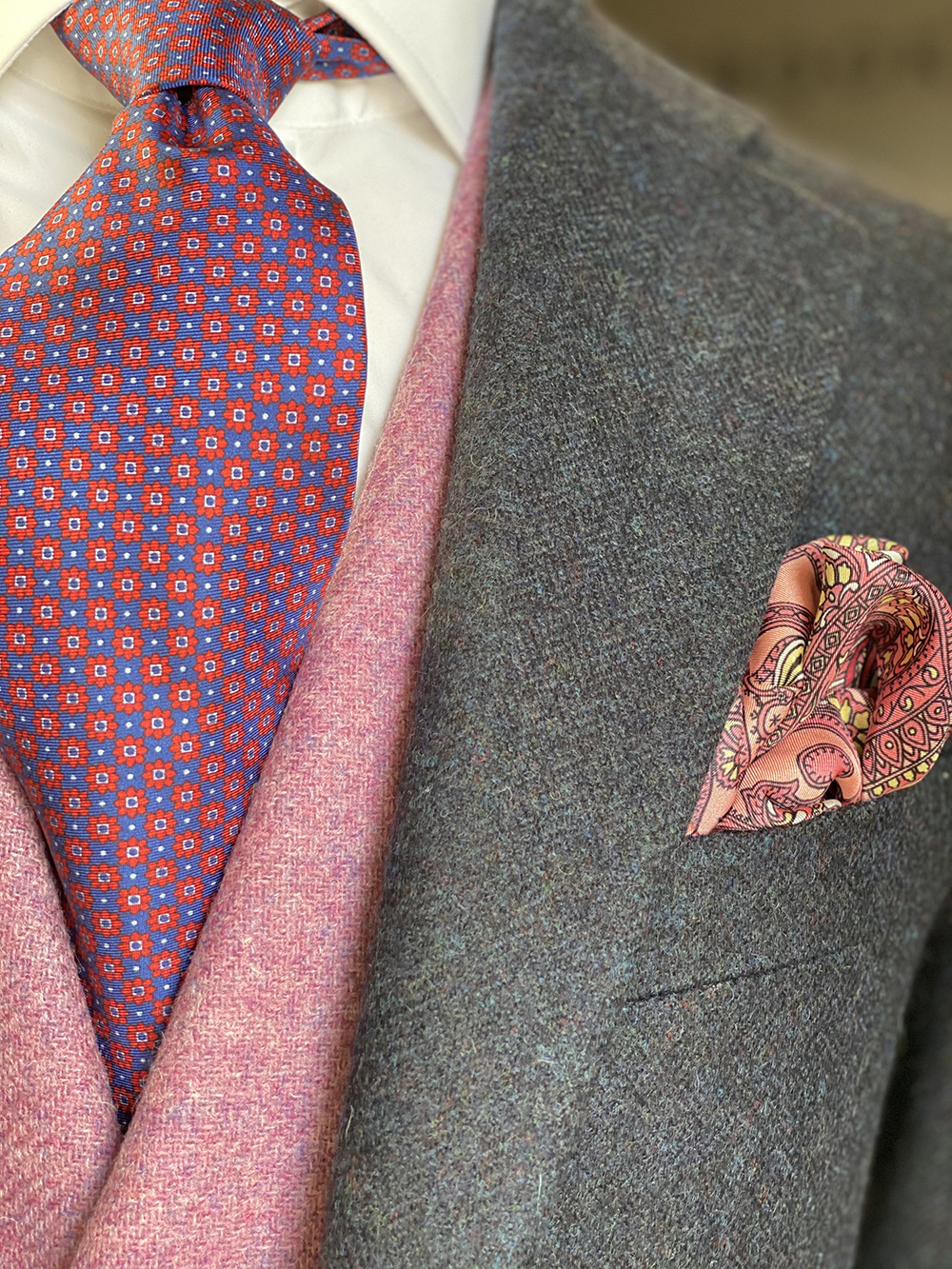 2) The Devil is in the Details
The finer details make the difference between a remarkable outfit and a run-of-the-mill one. It doesn't matter how small or unique the details are, they show that thought and care have gone into your garment and add a special, meaningful touch. 
The best way to ensure your wedding suit incorporates distinguishable details is by being present for the design process with an experienced tailor so you can work together to personalise and create uniqueness in your suit. This can include personalised stitching, pocket squares, specific buttons and much more that will catch the keener eyes of your guests and make for fond memories to look back on. You can even go so far as to create your own bespoke tartan and highland dress for a one-of-a-kind look.
3) Mix and Match
We're predicting a strong desire for mixing and matching patterns and colours this year. The "broken suit" style is an art that has been mastered by the Italians for years and has shown real impact in contemporary culture. The art of mismatching is not as scary as it looks and if you know what you're doing, you're on your way to creating a wedding suit that will be remembered for years to come. 
The easiest way to achieve the broken suit look is by having a colour pairing that is both contrasting and complimentary. Grey and blue, white and black, and beige and burgundy are all popular choices. However, if this is too daring for you, then stay within the same colour palette and experiment with different hues of the same shade to keep the look formal. Alternatively, if you're wearing a three-piece suit, then contrasting the colour or pattern of your waistcoat is another great way to achieve the trend, or by pairing a contrasting jacket to tartan trousers.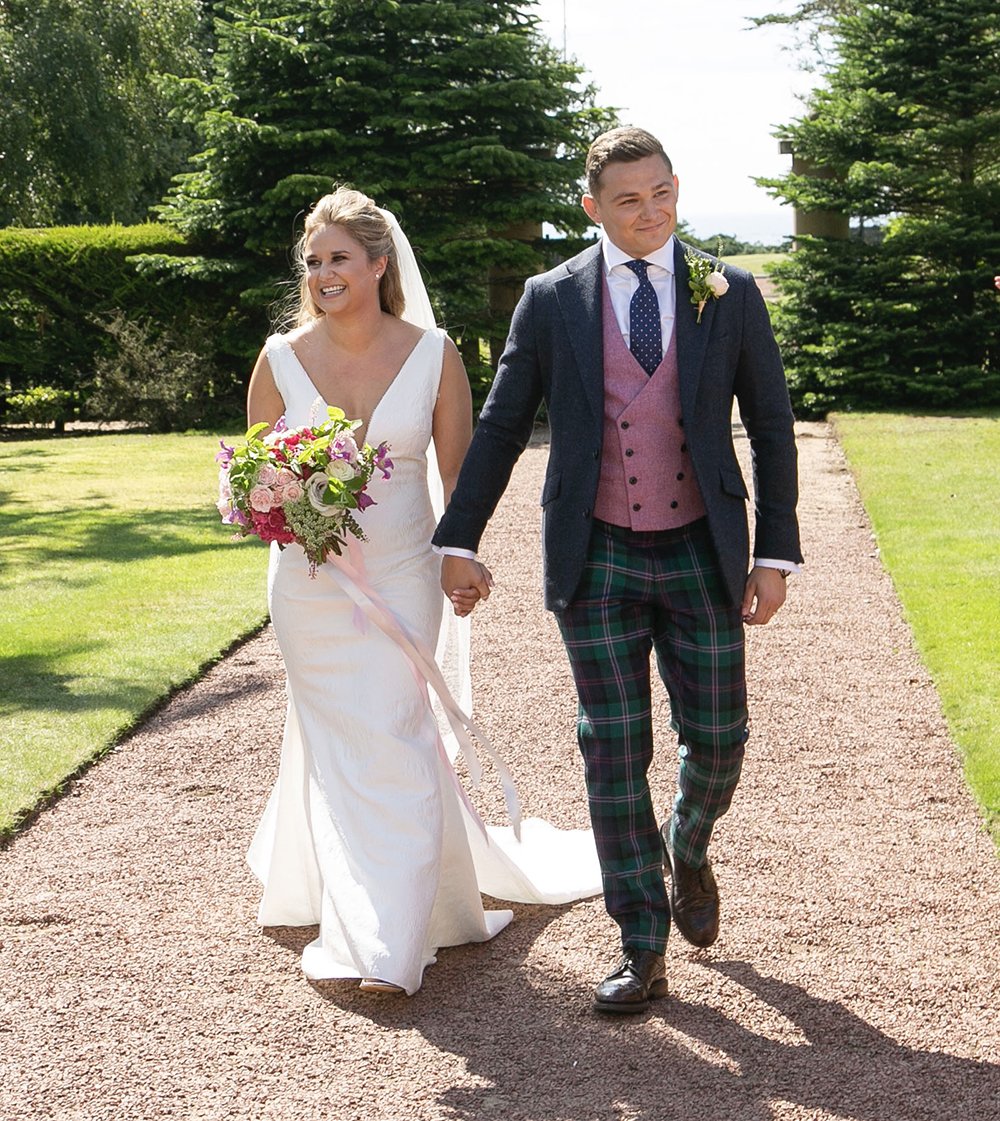 4) Vintage Style: For the Old Soul
You'll be hard-pressed to find someone who hasn't been influenced by the timeless and traditional style seen on Netflix's The Crown. As a result, double-breasted, vintage-style suits are queued to be on display this year. This formal style of dressing is steadily on the rise and a double-breasted dove grey suit is high up on our list. This vintage style will suit any groom and stand the test of time despite the current trend. 
5) The Classic Tux 
2023 is the year to break from tradition. Whilst the tuxedo has traditionally been reserved for a black-tie evening affair, this year we're seeing a break from convention and 2023 gentlemen are breaking out the tux for a daytime dalliance, and we're definitely on board.
A classic tuxedo has all the elegance of a traditional morning suit but the refinement necessary for your wedding day. There's a reason the tuxedo has never dated and is still as powerful today as it was back in the 19th century. They are the perfect choice for the groom who wants a garment that is a step above the suit and generally a great way to honour the importance of your wedding day.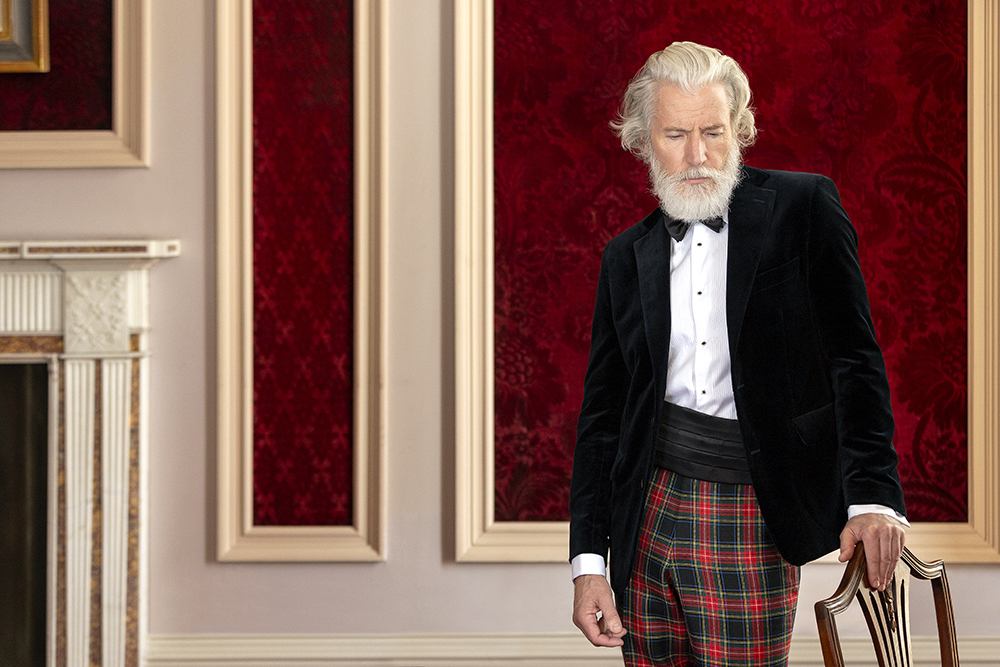 6) Velvet or Tweed Suits for Texture
Leading with a texturally interesting suit is a big trend for 2023 and the perfect way to outsmart the traditional wedding dress code. Think luxurious velvet and dynamic tweed. 
Velvet suits were seen all over the red carpet last year and they've swiftly made their way to the wedding aisle. We'd recommend burgundy, navy or emerald green to be your go-to as they offer sophistication and luxury in abundance. As for tweed, this material leads with elegance and refinement. Its countryside elite style compliments a range of colour palettes making it perfect for any style of a gentleman.
7) Three-Piece Suit
A classic three-piece suit exudes sophistication. It is effortless and contemporary, therefore undoubtedly it has hit our 2023 trend list. As we're seeing a resurgence of classic men's suit styles, the three-piece suit is the perfect way to showcase your love for traditional elegance on your wedding day. However, there's always room to modernise the garments by mismatching the colour combination or adding contrast with your accessories.
8) Accessories for the Finished Look
Accessories can often be overlooked, however for 2023, they're the perfect way to elevate your wedding outfit and should not be overlooked. Seeing your accessories as significant components of the day can drastically change how you present yourself on the day and will subtly distinguish you from your groomsmen.  
9) Sustainability: For Now and Forever
Long gone are the days of throwaway fashion. 2023 is embracing sustainability and it may be our favourite trend of the year. 
For your wedding day attire, seek out garments that can be worn as stand-alone pieces as well as together. Choosing an outfit that you can reuse after the wedding day will not only allow you to appreciate your pieces for longer but also brings versatility to your wardrobe. Let your outfit become an amalgamation of your "go-to" jacket, shirt, waistcoat and trousers so you can enjoy them in many different ways for years to come.
10) Custom-Tailored Suit 
A custom-tailored suit is not only a trend for 2023 but a tenet for any coming groom to live by. For your big day, it is essential that your suit fits you perfectly so you're looking your absolute best. Hiring something that "just about" fits simply isn't an option. 
A reputable tailor will ensure your suit is the best-fitting article of clothing you've ever worn whilst making it uniquely yours. Everything is taken into consideration, from the way you stand and your body shape to the way you naturally move. You can also highlight your own individual style in any way you see fit, from the colour, pattern, buttons, hidden pockets and more. Furthermore, it will become a key investment piece in your wardrobe that will last a lifetime. See how we create bespoke tailored suits for the big day.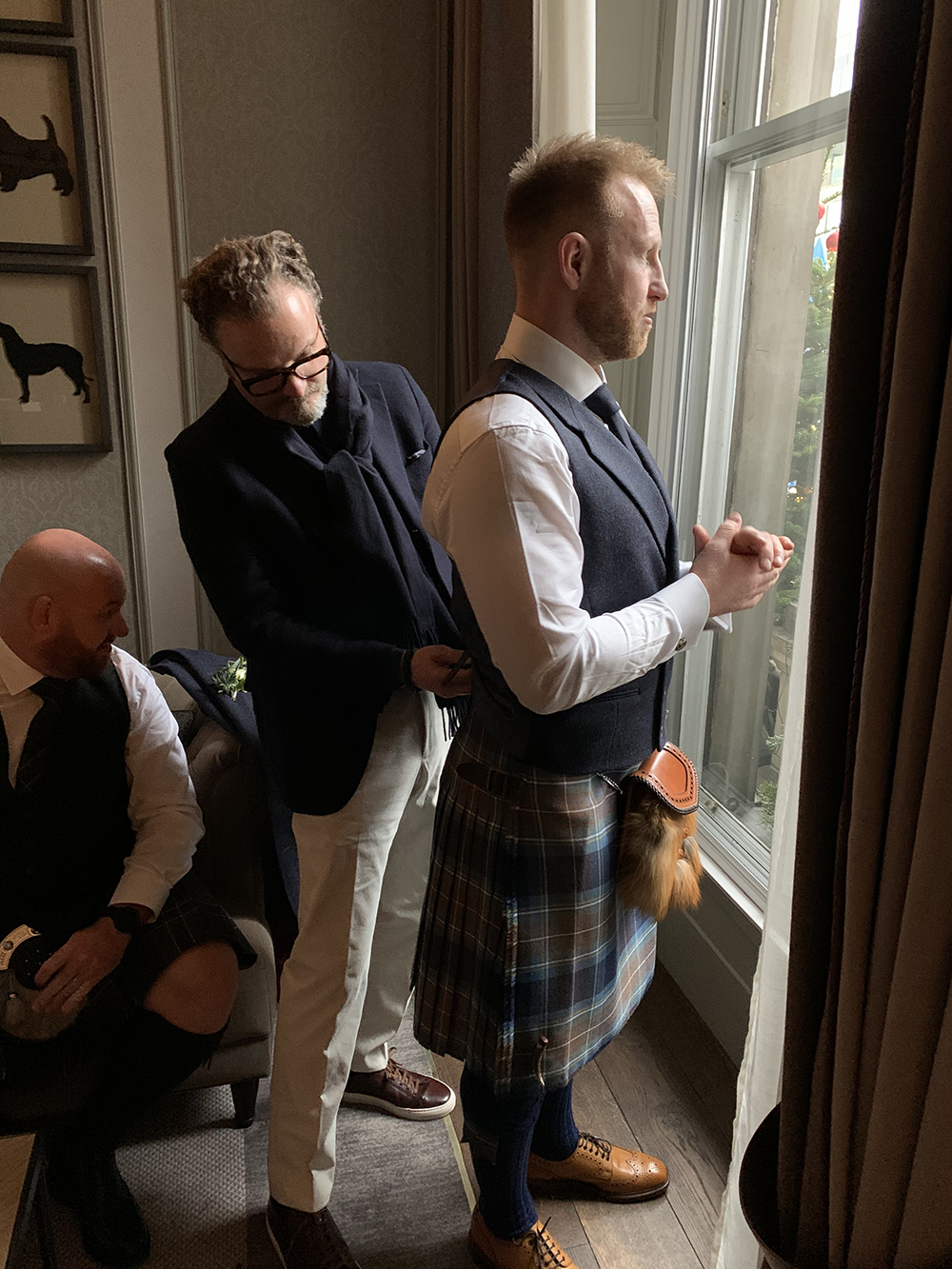 At Andrew Brookes, we create beautiful bespoke wedding suits for customers worldwide. Our garments are consistently individual, elegant, and modern, tailored specifically to each groom's personality and style. Take a look at how we created Scott Meenagh's bespoke tartan for his big day for an idea of our tailor-made service.
If you would like to know more about our bespoke services, you can book an appointment here, and we'll be in touch about creating something special for you very soon.