Key Essentials – Denim
11 October 2020
Continuing with our 'Key Essentials' Series, we turn our focus to denim.
Denim is a global wardrobe staple for both men and women and rightfully so, as this is a fabric that bridges summer and winter, work and play, dressy and casual. Everyone feels themselves with their jeans on and so we are going to look deep into what makes denim so revolutionary.
Denim brings unique colour, and not a lot of people know that denim is originally beige. The original fabric is taken through a repetitive dyeing and drying process using indigo dye becoming a deeper shade with each dip. The dye actually takes the denim to a green colour which with oxidisation turns into blue.
"
Denim is the lynchpin for our brand
" –
Andrew Brookes
Raw Denim
The holy grail of denim comes from Japan – a company called Kuroki. Founded in the 1950s, Kuroki weaves 1% of the world's denim with fabric of exceptional quality. Using mills close to water sources, the local soft water is the secret to their success. This analogy is also true of the most enduring and successful whisky distilleries in Scotland.
Kuroki primarily produces the original non-stretching raw denim rather than using developed dyeing and distressing techniques common nowadays. This fabric starts boardy, stiff and dark and the more it is worn, the more fading, creases and markings develop, really bringing out the personality of the jeans. The distressed jean look is a classic way to wear jeans.
The secret to achieving the ultimate distressed denim look is to never wash your jeans! A secret among denim aficionados is to clean your jeans by putting them in a plastic bag in the freezer overnight. This kills all bacteria, yet retains the prized creases and bashes.
Andrew Brookes and Denim
At Andrew Brookes, we offer a service tailored to the lifestyle of our clients. Our brand always aims to set our clients apart by making them look and feel like the best version of themselves, whether it is at work, play or at home. Bringing denim into our offering allows us to achieve a cool, casual, European feel for our clients. Denim really is a central part of our service and pivotal to what we are trying to achieve for our clients.
Business Wear
As the world evolves beyond the traditional suit to an 'Upper Casual' approach for business, the new standard of business wear now looks softer and more stylish. Dressing for the day is really the way we operate today and it's common practice to keep a suit at work and wear it only when needs be.
For a classic 'Upper Casual' Business look we pair a jacket with jeans. This modern feel to business wear allows us to be confident and comfortable at work, while fitting the bill for meetings. The darker you take denim, the dressier it looks.
In Scandinavia and Germany, mid- to dark denims are very popular to wear to work. Tailored or tight fit denim with the right jacket, right shirt and tie create a very stylish and smart business look. Complimented with angular glasses, smart hair and trimmed beard and the look is perfected. Let's be honest, this looks dressier than the guy wearing his suit badly!
The stigma of wearing denim to work on a Friday is gone. We are living in a world where denim is business wear. The key thing is that you have got to wear it with confidence and wear it stylishly.
Casualwear
Most of us tend to wear bashed/ripped denim at the weekend for casualwear. While lots of people default to the simple denim and pullover this need not be the case, denim can do much more than this.
Using contradiction to create style
We love to combine a classic blazer, perhaps double-breasted with dark silver buttons but with bashed or washed denim, boots and a T-shirt.
White and cream denim
Wearing winter white and pale cream denim between May and September looks amazing. This is very popular in Europe. Us Brits can be too scared to wear creams in the UK, but we don't need to be! Pairing with a fine navy polo, the right jacket and the right shoes, you create an exceptionally stylish summer look.
Denim to Dinner
Pairing a dinner jacket and bow tie with denim and cowboy boots is another show-stopping outfit. A contradiction to the norm, but a look that combines personality with chic. Ralph Lauren does it, and he is classic as it comes.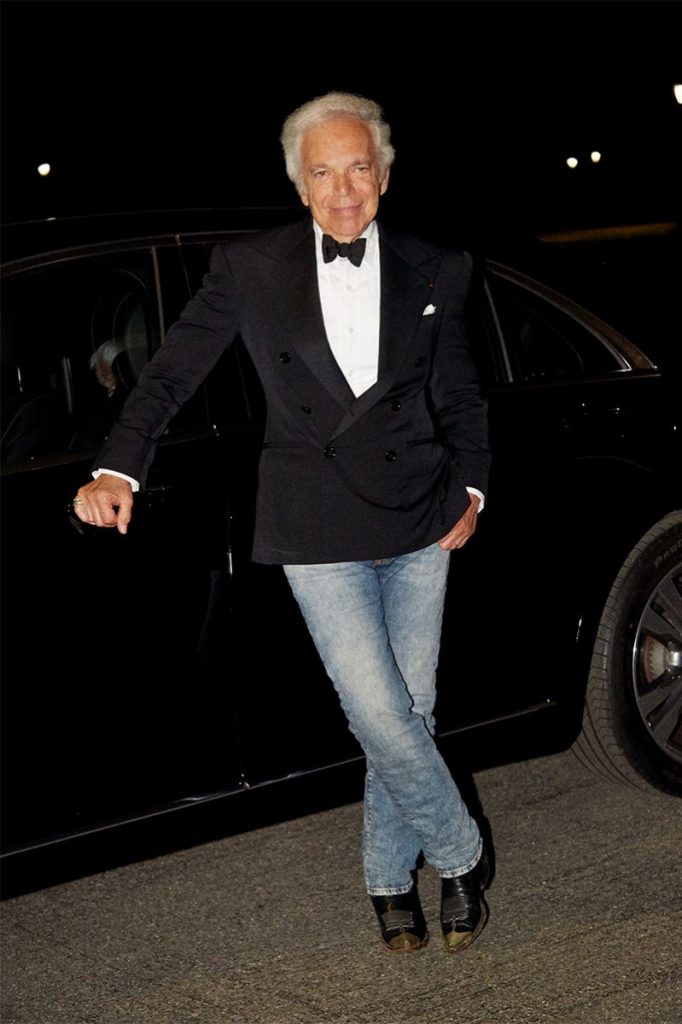 Mix things up from a style point of view.
Spring Summer
Combine jeans with a nice unconstructed collar white shirt, black knitted/woollen tie and black jacket. This is such a cool look with shades. The same can be done in navy – it looks amazing and is so basic.
Double Denim
Double denim generally works. The secret is pairing with the right shirt and a piece in the middle such as waistcoat or pullover. Double denim works with a smart blazer over the top.
For us, fitting denim on our clients means getting it exactly right for how the person likes to wear it.
We cut to the client's preferred rise, length, waist and thigh size. We take the right turn up length, calf, knee & butt fit, resulting in a truly personalised fit. Taking personalisation to the next level, we embroider initials on your coin pocket and add things like personalised colour fabrics to pocket linings and inside waistbands.
Once you have been measured up at Andrew Brookes, you can order the perfect jeans for you again and again.