How to Style a Navy Blue Suit Jacket
29 April 2022
The classic navy blue suit jacket derives from the reefer jacket of naval origin, still used today by yacht and rowing club members as a way to differentiate themselves from other clubs. This nautical-inspired garment has become the staple of any stylish man's wardrobe, with it not being as formal as a black suit jacket, and slightly more energetic than grey – perfect as a stand-alone article that can be adapted to suit any occasion.
This blog post will arm you with our most stylish tips and tricks to take your navy blue suit blazer to the next level and ensure it gets the wear it deserves. Read on to discover more.

Why buy a navy blue suit jacket?
What sets the navy blue suit jacket apart from all other suit jackets is that it is a separate article that doesn't need to come with a pair of matching suit trousers. Those who wear the navy blue jacket well, showcase style, sophistication and status in abundance. It's no wonder this garment holds pride of place in many a man's wardrobe as it's an investment that well and truly pays off.  
Types of navy blue jackets
Navy blue jackets come in an array of styles, designed to suit many different purposes. As mentioned, nautical clubs use the navy jacket to define membership and exclusivity. However, most navy blue suit jackets found in tailors and shops for formal and casual wear will be either single-breasted, featuring 2 or 3 buttons, or double-breasted, featuring 6 buttons. Variations between a 2-button single-breasted, 3-button single-breasted, and a 6-button double-breasted can include either a notched lapel or peaked lapel, and flap or jetted pockets.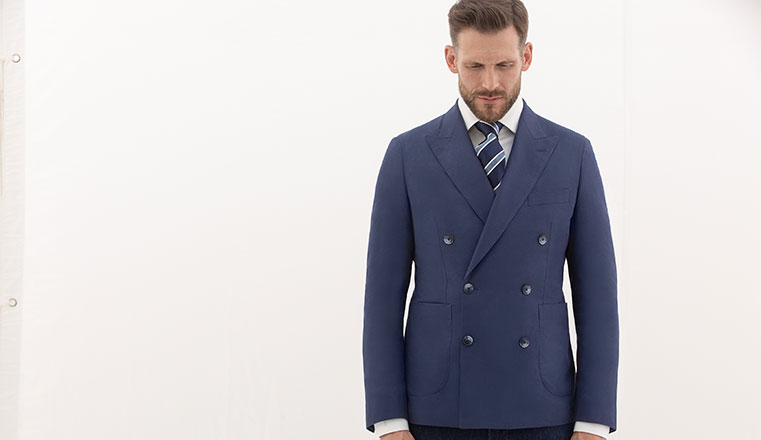 Navy blue suit jackets can come in multiple fabrics to suit the occasion, weather and purpose of wear. The most popular fabric choice for a navy jacket is worsted wool. It allows the jacket to be versatile for all seasons and an iconic choice amongst men. 
Whatever you're aiming to achieve with your navy blue suit jacket, Andrew and his team of master tailors are here to help and discover a piece that is unique to you. We take a custom approach to everyone we work with to ensure your navy blue suit jacket accurately portrays your unique character and style. 
What to wear with blue suit jackets
Business dress
When styling your navy blue suit jacket for business, you're in great company with either a white or a light blue shirt. The navy blue will add subtlety to these shirt colours as it is not as harsh as black. This colour palette will also ensure your look is not too formal but still give you a sharp business-appropriate style.  
We also recommend adding a club tie to your business attire for a hint of class and individuality to your look. However, if your shirt collar is large, opting to dress without a tie is more appropriate. Pairing trousers made from the same material as your navy blue suit jacket will create cohesion with both the top and bottom garments, however, you can also add a pair of dark navy or black chinos to achieve a striking business look. 
Smart casual dress
For the right balance between smart and casual, pairing your favourite dark denim jeans with your navy blue jacket will strike the perfect blend. This is a great timeless, upper casual look that many stylish men have been sporting for years.  
Our tailored jeans at Andrew Brookes are completely customisable, it is, however, important that your jeans are the right shade of blue and have dark stitching to complement your navy jacket. We recommend either dark blue or dark navy. Anything lighter will look too casual. We also advise you to avoid pale or grey denim as these won't look seamless next to the navy jacket. 
When denim is used in this way, you'll find you'll be able to transition from the meeting room to after-work drinks with ease.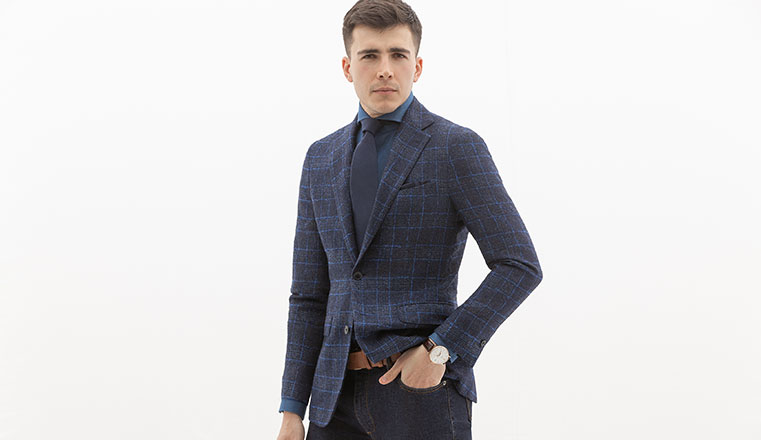 Casual dress
When you want to show off your navy blue suit jacket in more casual settings, the best way to achieve a laid back look is by swapping out your shirt for a t-shirt. The best colours to go for include white, light grey, navy blue and light blue. These will keep the look light and airy and still complement the colours at play. Pairing your navy jacket with jeans is a fail-safe way to conduct casual dressing with your suit jacket. We recommend chinos as they will keep the look light and energetic. Opt for navy and dark blues, and avoid black to keep the look fresh and casual. 
Do not underestimate the importance of accessories when trying to achieve a casual look. Swapping out your brogues and black shoes for white sneakers is the ultimate way to elevate your outfit from something traditional into something that is young and energetic. White sneakers work best with this look and you can also go for 'barely there' socks for a dynamic and fresh look.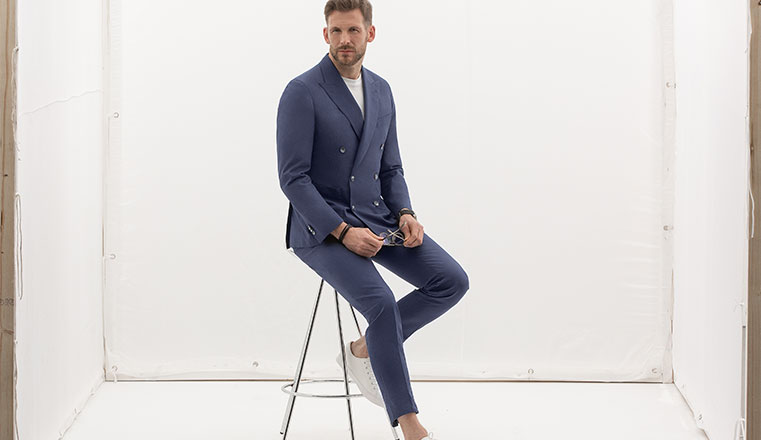 Suited and booted 
Any good wardrobe will include the fundamental building blocks from which everything else stems. A navy blue suit jacket is one of those essential building blocks. Now, get your jacket on and enjoy the incredible versatility of this must-have garment.
If you have any other enquiries regarding suit jackets and tailoring, or just want to speak to a member of our friendly team about our process, feel free to get in touch today.