Men's Summer Suits: A Guide to the Best Fabrics and Materials to Stay Fresh and Cool
24 May 2023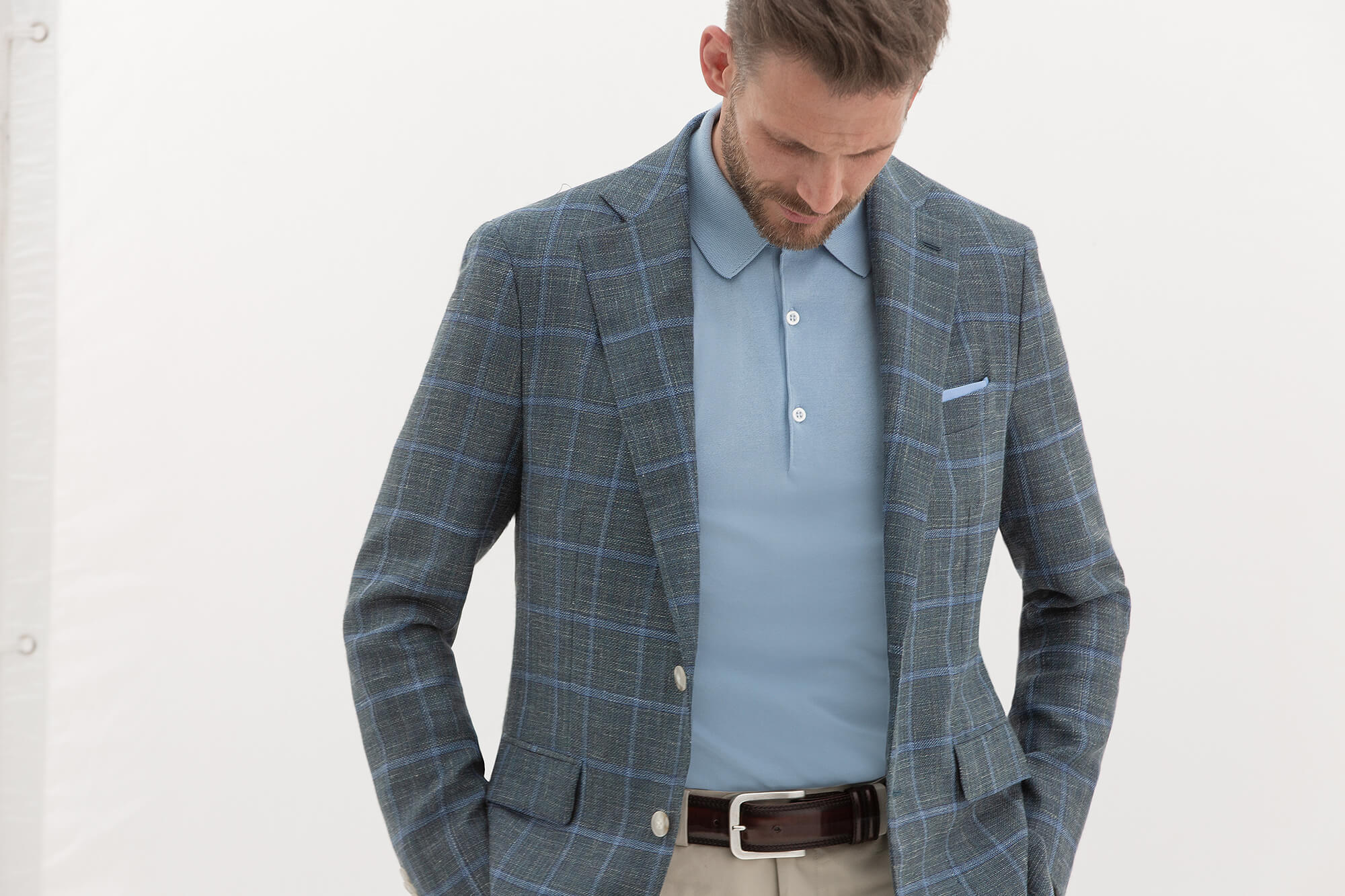 Once described by Charles Dickens as the "prime and vigour of the year", summer may lack in shade, but not in outdoor social events and wedding invitations. Our wardrobes are required to uphold a degree of etiquette and formality, despite the rising temperatures.
But how do we look great in a way that beats the summer heat? Well, it all comes down to the materials you choose. Here's a rundown of the best fabrics and materials that will help you achieve cool sophistication for your upcoming summer events and weddings.
Linen
Linen is synonymous with summer. The fabric's durability, loose weave and natural fibres allow for excellent airflow and circulation, making it perfect for your summer suits. Not only does linen have fantastic cooling properties, but the material itself has long been heralded for its classic and timeless appeal that exudes an effortless style which can be dressed up or down. If you want a natural and sustainable look or need to look good for a wedding on the beach, then look no further than linen.
Cotton
There are many reasons why you should opt for cotton suits in the summer. As a highly breathable fabric, cotton allows for air to circulate around the body and is great at promoting ventilation. It's lightweight and comfortable enough to be worn for the entirety of a day's escapades and will absorb sweat and moisture from the body. Cotton is as light as a linen suit but offers sharper lines for a smarter finish, however, can still be tailored to fit a number of events and will add an element of summer refinement to any event.
Lightweight Wool
While wool may seem counterintuitive, lightweight wools such as fresco or tropical wool are purposefully designed for the warmer months. As these materials are made with looser and finer weaves of yarn, they retain less moisture and heat, making them a perfectly suitable choice during summer.
What's more, as they're naturally wrinkle resistant, the suit will retain its shape throughout the day so you're looking refined and polished from desk to dinner. You can also opt for a partially lined wool jacket to offer you extra breathability.
Chambray
If you're unfamiliar with chambray, it's a lightweight, plain-woven fabric which is typically made from cotton. Chambray is a popular choice for the summer months as it's breathable and naturally absorbent which keeps you feeling cool and fresh all day. Similar to cotton, chambray will give you a composed yet nonchalant aesthetic that makes you look effortlessly chic when you're attending your summer socials.
Silk-Linen Blends
Lead with comfortable luxury this summer in a silk-linen blend suit. This combination of materials will help you keep cool during hot and humid conditions. As both silk and linen are moisture-wicking, a suit made with this blend will help to keep you dry and comfortable all summer long. This combination works great if you want to add a touch of grandeur to your formal attire thanks to its natural sheen that adds richness and elegance to your summer nights. Navy blue is a great colour choice with this material too. Take a look at how to style a navy blue jacket for some ideas this summer.
Which material suits you best for summer?
Cotton, linen, and lightweight wool are great selections for your summer suit. These materials are light, breathable and help keep the body cool and ventilated. What's also great about these materials is their versatility, allowing for different structures, colour and pattern combinations such as tartan. We gave some ideas on what jacket to wear with a pair of tartan trousers in a previous blog.
What is the most breathable material for summer?
Construction, weave and fibre content are all the qualities that determine the breathability of a fabric. With this in mind, cotton, linen, and lightweight wools offer the most breathability and comfort during the hotter months.
What suit to wear in hot summer weather?
In hot weather, you should always be cautious about prioritising your comfort when choosing your suit style. Single-breasted suits allow for easy ventilation and relief from the heat by simply unbuttoning.
What is the best material for men's summer wedding suits?
For your wedding day, you'll not want to compromise your style, but you do need to prioritise your comfort on a hot day. That's where lightweight wool comes in handy. This material is not only versatile, well-structured and form-fitting, but it will keep you ventilated and cool throughout the day, unlike traditional wool suits. Take a look at some of the best colours to wear on the big day for more inspiration.
We hope we've helped inspire you to experiment with new fabrics and aesthetics so you can go forth into the golden months cool and refined.
At Andrew Brookes, we create beautiful bespoke suits for customers worldwide. Our garments are consistently sophisticated and modern and are always tailored specifically to each gentleman's personality and needs.
Have a look at our personal approach to tailoring for an insight into our tailor-made service.
If you would like to know more about our bespoke services, you can book an appointment here, and we'll create something special for you.