What Colour Suit Should I Wear to my Wedding?
13 October 2022
The anticipation of the wedding day is brewing and it's time to spare a thought for your wedding attire. Wedding suits have evolved over the years and grooms are now presented with a wide selection of colours to choose from. Men are now noticing the vast variety of styles available for their wedding day and are choosing a suit that is a reflection of their individualism. One of the simplest ways to do this is by choosing the right suit colour.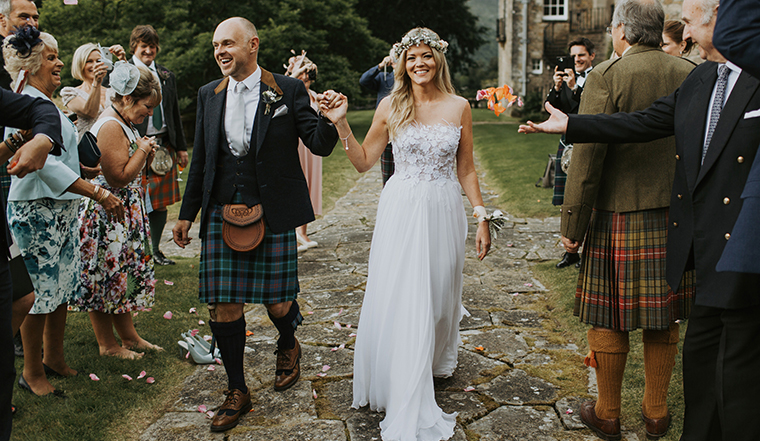 Many rank the etiquette of a wedding suit based on its colour and there's no doubt that the hue of your suit plays a vital role in how you will present yourself on the day. With so many choices available and as each different colour has its own appeal, we have broken down the fundamentals you need when making your decision. Read on for more guidance.
Common and traditional colours for wedding suits
Amongst the many colours for wedding suits there is, as always, a common selection that many men tend to gravitate towards. No doubt that when you close your eyes and picture a wedding suit, your mind will immediately see either a blue, black, grey or tartan suit.
The traditional wedding suit colour of choice has been a black suit or tuxedo, however, navy and dark grey suits also soon began to be included in this roster. However, modern times no longer dictate that men wear these shades, although we can certainly see the appeal. Let's take a look at each in closer detail:
Black wedding suits
Black suits are for the lover of traditionalism and timeless sophistication. Choosing a black suit will be a decision you'll likely never regret and you can guarantee it will look flawless on the day. It's a great choice for those who want a polished and sleek formal look and it will pair perfectly with a traditional white wedding dress.
Grey wedding suits
The grey suit saw immense popularity over the last few decades as it paired well with pastel shades that are often seen throughout the wedding day whether it be in the bride's flowers, bridesmaid dresses or ties. The various hues of grey mean it's also extremely complimentary on all skin tones and is a great way to look formal without the harshness and traditionalism of a black suit.
Blue wedding suits
Navy introduced itself into the wedding world as the more fashion-forward suit. The blue offers lightness to the suit without being overbearing or too formal. It is also a great tone for those who love brown accessories.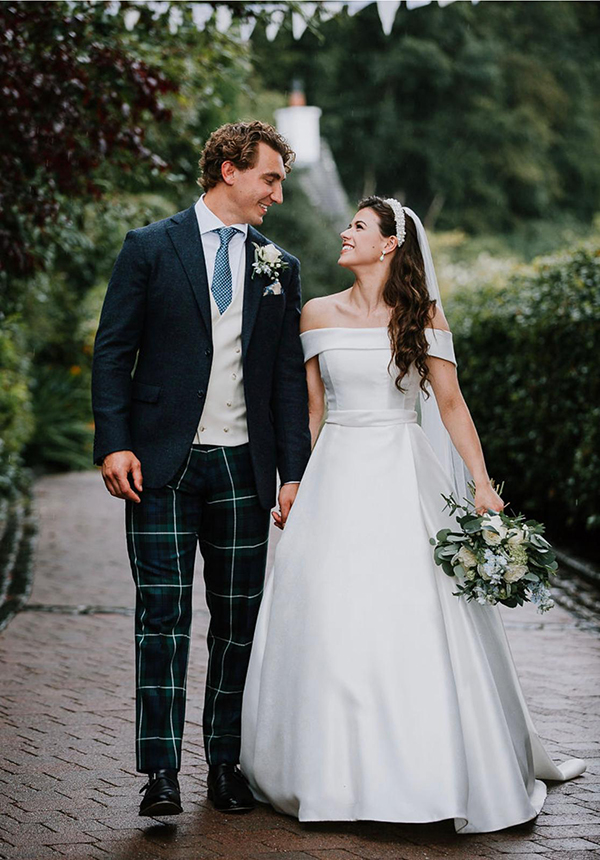 Tartan wedding suits
Tartan has been so popular over the years and is considered a traditional choice in Scotland, and is a sure way to have you stand out from the crowd. This beautifully varied, Scottish style is perfect for those who want to embrace their heritage and lineage, without committing to a full kilt, and for others, it's a great choice to break the mould of solid suit colours and express your style.
With so many variations of colour to choose from, you can make this style as muted or showstopping as you choose and its incredibly versatile nature makes it ideal for any season, style and cut of suit. The tartan wedding suit is also a great choice for those who want to create something entirely bespoke and nostalgic which can be accomplished when visiting an accomplished tailor.
White wedding suits 
Grooms can wear white, too. White wedding suits are becoming increasingly popular on the wedding scene, and we're starting to wonder why they haven't always been the traditional choice. Not only does it give the bride and groom unmatchable cohesion, but the white suit is incredibly sophisticated and versatile, perfect for every season. You can opt for a head-to-toe white suit, or pair a white blazer with white black tuxedo trousers. Either works and showcases timeless style.
Modern colours for wedding suits
Whilst the darker suits have a formal connotation and give off a polished look, there's no harm in trying something new. Vivid shades can make a statement just as well, and we're now seeing an influx of suit colours that break convention.
Pale blue wedding suits
Pale blue is a perfect way to get out of a suit rut and still retain the formality you need for a wedding whilst not having to go down the traditional route. This shade works best during the summer months and is ideal for a groom who wants to emit a subdued casual and refreshed look. Many think this colour could, in time, become the "new black" for summer weddings.
Burgundy wedding suits
Burgundy suits have all the formality, sleekness and polish of a black suit, without the commitment of having to actually wear black. Whether you opt for an oxblood, claret, or anything in between, a burgundy suit oozes luxury and sophistication and gives your wedding attire a renegade edge to it. They're ideal for any skin tone and will still keep attention on the bride.
Tan wedding suits
Tan suits are a great choice for those having a summer, beach, or rustic wedding. However, a darker tan suit will retain a slightly formal look and work well for autumn and winter weddings.
Green wedding suits
Green suits, be it racing green, olive or forest green, have perhaps seen the biggest rise, and they are predicted to be the wedding suit colour of 2023. Green is a great and unique option that suits most skin tones and is perfect for grooms who want to stand out in a classic and subtle way. Accessorising with complimentary colours such as black, mustard, burgundy or even another shade of green will also help elevate the look and keep it looking refined.
What should you consider before choosing a colour?
Before committing to a colour, you should keep in mind the logistics of the day:
The Season
The time of year you're getting married will have much say on the colour of your suit. Darker suits will be more appropriate during the cooler months, whilst pastels and vivid colours work better during the warmer months.
The Wedding Theme
Make sure your outfit corresponds to either the formality or relaxed atmosphere of your wedding. If you and your partner have decided upon a theme or colour scheme already, try and keep within the realms of the colour palette of your wedding when choosing your suit. This will ensure you don't look out of place and in fact, elevate your suit as your surroundings will then complement your attire.
Your Personality
Above all, your personality should shine through and you need to feel comfortable in what you're wearing, whether that's going down the traditional black tuxedo route, or opting for bold burgundy. Ultimately, the expert is you, and the only way you'll know is by experimenting and trying out different colours until you find one you're happy with.
Your Style
The style of the suit you choose to wear will have an influence over the colour you decide on and help you eliminate a whole host of colours, as some suit styles will be complemented better by certain tones.
If you're planning to wear a tuxedo, then we recommend opting for a rich, solid colour such as black, burgundy, green, navy, or white as the satin will shine through beautifully with these tones. However, if you're wearing a traditional kilt on your wedding day, then we encourage a bolder, more vivid colour palette to better capture the checkered pattern.
Your Tailor
If you're feeling overwhelmed in choosing a suit, or simply don't know where to start, then visiting a tailor is likely the best starting point. An experienced tailor will be able to go through all the components that make a suit successful and help you in deciding certain elements that are right for you. This bespoke approach will ensure you decide on a suit that you can cherish forever, even beyond the big day.
Should your best man's suit match yours?
Many grooms like the idea of coordinating with their best man on the wedding day. It is a great way to distinguish your best man from the rest of the groomsmen and show the important role you both have to play.
Having your best man dressed exactly the same as you is often a nice nod of respect and an earnest display of the bond and brotherhood you share. Some prefer a subtle distinction between the two with accessories or hues so that the groom stands out. Both scenarios are effective and there is no right or wrong. We advise that you base your decision on what makes you feel comfortable.
Why should you get a bespoke suit?
Choosing to go to a tailor to create your wedding suit comes with a whole host of benefits and advantages that an off-the-rack suit cannot afford you. A trailer will look at your exact preferences, requirements, measurements and wedding day setting to curate a bespoke suit that is uniquely yours. Details down to how you stand and naturally move are also taken into account so that your suit will flatter you in all the right places.
What's more, they will use high-end fabrics, materials, innovative tailoring techniques and years of skill that cannot be replicated in a store. This means you'll have a wedding suit that will last a lifetime for you to wear and enjoy beyond the wedding day. To find out more about the benefits of a tailored suit, check out our blog post on the differences between bespoke suits vs off-the-rack. 
Wedding suits at Andrew Brookes
We hope by now you have a clearer idea of the direction you want to take your wedding suit in and feel more confident in making your decision.
As leading tailors in Edinburgh, we create beautiful bespoke suits for grooms across Scotland, the UK and worldwide. Each of our garments is thoughtful, elegant, and modern, tailored specifically to each man's personality and style.
If you want to know more about our bespoke services, you can book an appointment here and we'll be in touch about creating something special for you.