The Best Suit Jacket To Wear With Jeans
3 May 2023
We often attend occasions where a suit is too formal and jeans too casual. However, knowing how to achieve the perfect balance between your formal and casual clothing can be challenging. Thankfully, we're experts at cultivating relaxed sophistication that is always masculine and comfortable.
Here are our key observations when looking to pair your jeans with a suit jacket:
Fit
The first thing to be aware of is the tailored quality and fit of your jacket. We recommend a bespoke tailored jacket to ensure you look your best. Something off-the-rack can be ill-fitting and look sloppy when paired with the already casual jeans.
Pattern
Avoid strong formal patterns when it comes to your jacket. It's best to leave your pinstripes for another occasion and gravitate towards solid colours instead to ensure your look is blending the formal and casual elements well.
However, textured fabrics such as tweed and flannel are great options and can often give your look a bright but casual tone and are ideal if you're trying to achieve a modern-day country look.
Colour
The third imperative rule is ensuring the colour of your jacket works with your jeans. We recommend beginning with your jeans and working your jacket around them. Quick disclaimer, try to avoid distressed or overly worn jeans as this will create disparity with your suit jacket. We've listed some of the best combinations below.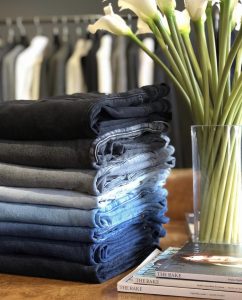 Suit Jacket for Navy/Blue Jeans
If you want to match a formal jacket with navy or blue jeans, then opt for a navy or blue-toned jacket or brown textured style. Either of these will be timeless and when paired with a grey knit or roll neck underneath you'll look perfectly on-trend for any semi-formal occasion. Keep in mind that the general rule of thumb when styling is to avoid pairing blue with black. The two shades are close to each other on the colour spectrum and can more often than not, wash each other out.
Suit Jacket for Black Jeans
For black jeans, we're fans of grey-toned jackets. The two colours complement each other well in almost every situation as the grey will soften the seriousness of the black. Try a charcoal suit jacket or a grey minute-checkered style here and you'll be a picture of elegance. There's never a day when an all-black look is not on-trend, however, we recommend saving this look for an evening event.
Suit Jacket for Grey Jeans
When wearing grey or charcoal jeans, you can opt for a completely tonal look and pair a grey suit jacket. This look is endlessly chic and the epitome of casual sophistication. However, as mentioned earlier, grey and black also work well together so if you're wanting to break the look up slightly, this would be the best way to do so.
Suit Jacket for White Jeans
When spring and summer approach, white is an elegant way to make your formal attire sophisticated as well as season-appropriate. A favourite for many sophisticated men, white jeans can be paired with a herringbone jacket in a light grey and you'll make quite the summer statement.
Accessories
Once you've perfected your base layer, we would always recommend adding a belt to help structure and define the look. When choosing your belt colour we suggest matching your belt to your shoe colour – brown belt, brown shoes. Black belt, black shoes and so on.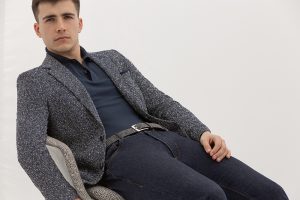 We hope our top tips have helped conquer any fear you've had when styling your suit jacket with jeans and you're ready to make sophisticated style choices with confidence.
At Andrew Brookes, we create beautiful bespoke tailored jeans and blazers for customers worldwide. Our garments are consistently elegant, and modern, tailored specifically to each gentleman's personality and needs.
Take a look at our personal approach to tailoring for an idea of our tailor-made service.
If you would like to know more about our bespoke services, you can book an appointment here, and we'll be in touch about creating something special for you very soon.