The History and Importance of Men's Highland Dress
30 September 2022
The history and importance of men's Highland dress has been a conversation starter for centuries. Today, people still uncover the remarkable history and significance of these traditional Scottish garments and are stunned by the exquisite design, silhouette and regality they showcase. To find out more about Highland dress, read on.

What is Highland dress?
Highland dress is the traditional attire of the Highlands and Isles of Scotland, usually reserved for special occasions and ceremonies and is made up of various accessories, colours, patterns and styles. Usually, the dress consists of the following: a permanently pleated kilt, made from a plaid with a cross-checked repeating known as tartan; a Jacobite shirt with criss-cross lacing at the chest; a silver-mounted sporran in fur; a silver-mounted and jewelled sgian-dubh; a sealskin or hair with a silver chain belt; a kilt pin worn at the bottom of the kilt; an Argyll or Prince Charlie jacket, often worn with a waistcoat; Ghillie brogues; flashes; and an optional Tam o'Shanter which is a traditional cap.
What's the importance of the Highland dress?
Other than being traditional Scottish attire, the Highland dress holds significance to those who wear it and have links to the heritage. The Highland dress has been worn for more than formal and special occasions and was worn in battle as recently as World War II. For many, it remains a unique, patriotic and symbolic display of Scottish, Gaelic and Celtic heritage.
History of Highland Dress
The tradition of Highland dress dates back to the 16th century and was seen as a formal display of power and wealth. The earliest sightings of highland wear were seen on the lairds of Highland clans and their staff as a form of ceremonial costume and to showcase those individuals who possessed skills that gave them a lot of social cachets such as bards, storytellers and musicians.
Ancient Highland Dress
Whilst in most cases 'ancient' refers to something antiquated, in this setting it refers to the colour palette used in the design of the Highland dress. The colours of an ancient Highland dress would be soft and light, chosen to have a closer link to the historical colours of the first tartans in history which were created using natural dyes. Ancient highland tartans you'd find today will therefore be pastel-like in their hue, giving the appearance of a material that has been worn over many years.
Modern Highland dress
Modern Highland dress again refers to the colour of a tartan. Modern Highland dress designs will consist of strong, darker colours, to set them apart from the softer, pastel tones of the ancient Highland dress. Colours include rich greens, reds, and navy to showcase the modernising of the Highland dress.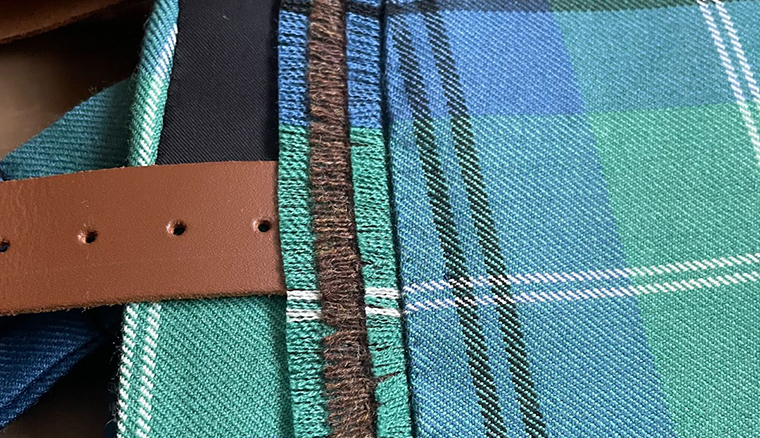 At Andrew Brookes, you can make your own bespoke tartan from scratch, so you can wear a tartan that is a reflection of your personal style and family history, as well as being something to be cherished by future generations. Check out the bespoke wedding tartan we created for Paralympian Scott Meenagh for an idea of what we help our clients achieve.
When can you wear it?
Your Highland wear does not need to be restricted to solely special occasions and ceremonies. There is plenty of room for individuality when it comes to traditional Scottish attire, and by altering certain aspects, you'll find that your Highland dress can be worn in multiple settings.
For day wear, sticking with the staples of the dress will allow for a more casual outfit. For example, an understated kilt pattern with a chunky knit jumper will offer a laid-back and relaxed approach to the Highland style. Paired with boots will also keep things casual and refrain from the outfit being overly formal as it would be with brogues.
For a semi-formal style, changing out the boots for brogues, adding a plain shirt under your jumper, or adding a blazer will help elevate the look for either a day or evening event that requires something slightly more refined.
For a full formal look, pair the kilt with a shirt, dinner jacket, vest and tie for a true Highland look. Pair with brogues and go out of your way with accessories to help complement the entire look and showcase the Highland dress in all of its glory.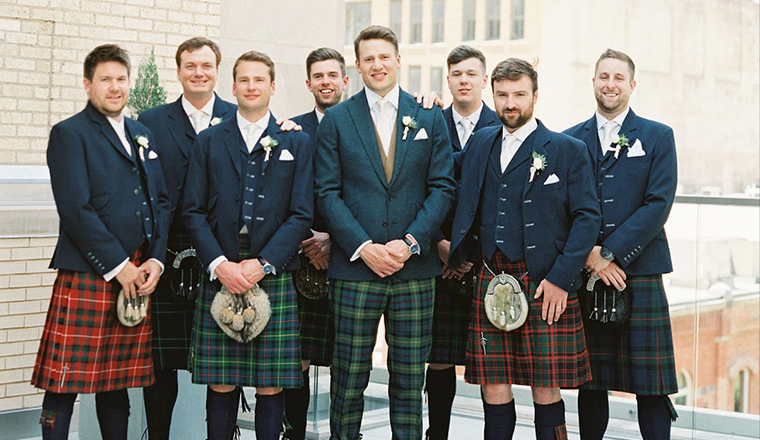 Is it formal wear?
While traditionally formal wear, like most enduring traditions, the Highland dress code has been altered and adapted to suit a multitude of settings, styles, and occasions. Now, you don't need to stick to a regimented style to wear a Highland dress, and you can adapt it to work for you and your requirements, whether it is formal or not.
How to wear a Highland dress properly
Whilst those native to Scotland may be aware of the logistics of Highland wear, others may not be. Those wearing Highland wear for the first time are usually unsure of the correct procedure for dressing in the traditional attire.
For those less accustomed, there is an easy order to start with and work your way from there. To begin, get everything bar the kilt in order, such as your shirt, tie, socks, shoes, flashes and sgian dubh. Be sure to pull your hose (socks) to the knee, and wear your flashes on the outside of the leg, directly above the sock turnover. From here you can tackle the kilt.
Wear the kilt with the pleats to the back, and have it sitting approximately 2 inches above the waist. The bottom of the kilt should rest at the middle of the knee cap so that when you kneel your hem will touch the ground – a traditional regiment method. The Sporran should then be centred on the front apron of the kilt, with the chain strap looped at the back. Finally, add a single kilt pin through the front of the apron for decoration.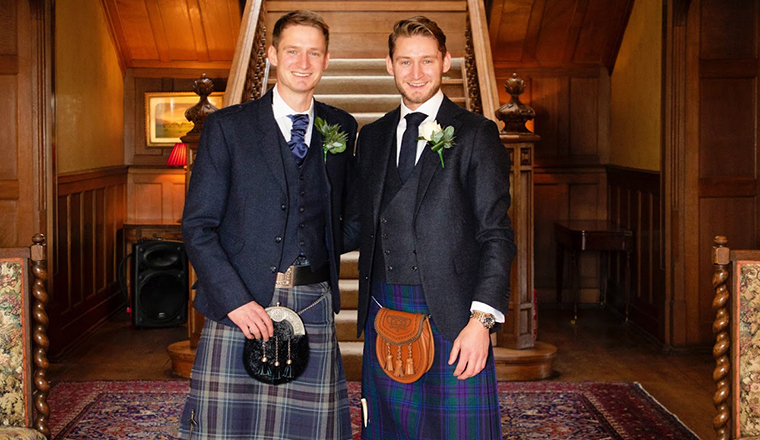 Highland dress at Andrew Brookes
At Andrew Brookes, we are irrevocably proud of our Scottish heritage and are renowned for our exceptional Highland wear in Edinburgh. With more than 70 years of experience providing high-quality men's Highland dresses, we know how to strike the right balance between tradition and modern.
If you would like to find out more about our Highland wear, visit our Highland dress page or get in touch today to see how you can embrace the full Scottish spirit with your bespoke Highland dress.