How to Mix and Match Men's Suits: A Straightforward Guide
28 July 2023
In the ever-changing world of men's fashion, sophistication remains a timeless staple. However, when it comes to mixing and matching suit styles, you get both innovation and everlasting style. Savvy gentlemen of today are seen embracing the art of combining suit jackets, trousers, and accessories to create bespoke and versatile looks. 
In this straightforward guide, we unlock the secrets to mastering the art of mixing and matching suits, allowing you to elevate your suit game with effortless ease. 
Can you mix and match suit pieces?
In a word – Yes! You can absolutely mix and match suit pieces. This is a great way to create new and unique outfit combinations with clothing you already own so that you're maximising your wardrobe's versatility. 
Sophisticated icons such as David Gandy, Daniel Craig and David Beckham have been showcasing the great lengths you can take the mix-and-match style to, and how much it can elevate your look. You'll also find that you may create your new favourite suit combination this way.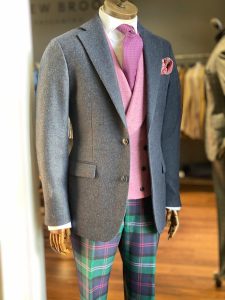 How to mix and match suit styles?
When looking to master the art of suit style in a mix-and-match fashion, there are certain rules to follow so you don't fall into the trap of looking like a maverick madman. Instead, you'll want to err on the side of sophisticated nonchalance, so that the final product showcases naturally, effortless style. 
The best way to achieve this is by familiarising yourself with different suit colours, patterns and fabrics. Keep pieces within the same colour family whilst you're getting to grips with marrying different styles together, and also ensure you're look is occasion appropriate. Whilst a linen blazer and wool trousers are certainly mix and match, they don't really have any place in most settings and would look less thoughtful and more thoughtless. Instead, maintain cohesion with tailored garments that help elevate and balance each other. 
If you're brand new to mix-and-match suits, begin with wool trousers as your base and experiment with your suit jacket. Try out tweed, flannel, tartan, and herringbone, for example, to see which looks best for the occasion, and keep pushing the boundaries until you begin to grasp what works and what doesn't.
Can you mix and match three piece suits?
The mix-and-match rule also applies to 3-piece suits. In fact, it is one of the best ways to create a distinct, suave outfit. Changing the colour, texture or pattern of your waistcoat is a subtle yet impactful way to implement the mix-and-match style and will allow you to pull off the "broken suit" look in almost any formal setting. 
How to mix and match suit colours?
Pick 2-3 colours to work with. No more. If you're wanting to combine two solid colours, be sure that one stands out against the other to create a curated contrast in your outfit, for example, cobalt blue with grey, or cream beige with white. You can, of course, choose two different tones in the same colour, for example, light grey with dark grey or light blue with dark blue. It's all about creating harmony.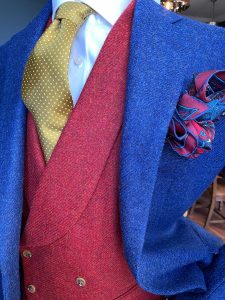 How to mix and match suit materials
Mixing and matching suit materials can add depth and visual interest to your outfit. The practice of doing so will also allow you to play with the formality levels of each suit piece, and you can let your creativity shine through by blending formal and casual pieces together to create a refined, yet modern-day composition. 
The easiest way to mix and match your suit materials without looking like a novice is to focus on the suit jacket and trousers. Choosing smooth fabrics with textured ones is a fail-safe way towards sophistication. For example, a velvet blazer with wool trousers will render you an award for evening elegance no doubt. Alternatively, a tweed jacket paired with cotton chinos will create visual interest and offer a timeless stately look to your demeanour. 
Top tip: Be sure to consider the season of your occasion and whether your materials need to be light or heavy and go from there.
Are mix and match suits suitable for a wedding?
Mix-and-match suits are definitely having their moment at weddings. Whether you're the groom, best man, groomsman or guest, there are many ways to curate a look for that special day. Consider any themes of the wedding, the season and the setting before putting your look together as it will determine fabric and colour choices. 
Weddings are amongst the most formal suit-required events, therefore you'll want to ensure each piece is tailored to perfection. If the day requires more subtlety, you can mix and match your accessories rather than actual articles of clothing to achieve your desired look. 
See how our top tips on How To Choose a Wedding Suit for more ideas.
Mix and Match Suit Ideas
We've put together a list of our favourite mix-and-match suit ideas below to inspire and spark some creativity.
Tweed Jacket with Wool Trousers
Classic Navy Suit with a Patterned Tie
Charcoal Grey Suit with Brown Accessories
Cobalt Blue Jacket with a Powder Blue Shirt
Light Grey Suit with a Pastel Shirt
Oxblood Velvet Jacket with Black Wool Trousers
Dark Grey Herringbone Jacket with Light Grey Wool Trousers
We hope this straightforward guide has instilled confidence and that you're now ready to go forth and master the art of mix-and-match suits. There's no denying this technique opens up a world of sartorial possibilities and will elevate your appearance.
If you're looking to create a bespoke piece for you or someone you know, be sure to take a look at our men's tailored suits. At Andrew Brookes, we create tailored perfection for weddings, ceremonies and special moments of luxury, for suits that are personal and crafted with precision.