How to pick the perfect outfit for the office Christmas party
7 November 2022
The office Christmas party is a time-honoured workplace tradition. It is an inevitable part of the festive season and one you and your colleagues have surely marked on the calendar for months now. 
Your invite likely comes with an expectation that you look your best, so we recommend you close the work files for a moment and put some time into making sure your pick the perfect outfit
Firstly, there are two things one must consider before plunging straight into it.
1. Confirm the dress code
 Your office may come with a strict black-tie dress code, or not at all. Understanding the requirements of your invite will heavily impact the suit you choose. Let's break down the appropriate attire for each circumstance you can find yourself in this season. 
The Black-Tie Office Party
 If your office is partaking in black-tie, you have the luxury of wearing a classic tuxedo – an impeccably timeless and long-awaited joy to wear for any sophisticated gentleman. The tuxedo refers to the dinner-jacket style of suit that has a satin shawl lapel and a single button. This style of suit is always best worn with a bow tie and a set of Oxford brogues or Venetian loafers.
The most timeless iteration of the tuxedo is a black two-piece paired with a crisp white shirt for an elegant and appropriate look in any setting. However, you can bend the rules slightly during the Christmas season and opt for a midnight blue, dark red or even emerald green tuxedo for a bit of a festive edge. 
The Formal Office Party
For the office party that doesn't require black-tie attire, but still a sense of professionalism, you'll find you have more scope in what to wear. A tailored suit and pressed shirt will have you covered for the snowy season and leave your colleagues impressed. Traditional black will, of course, never look out of place, but for the office Christmas party, a festive burgundy or velvet blazer in place of a classic dinner jacket is also welcomed, even encouraged, this season.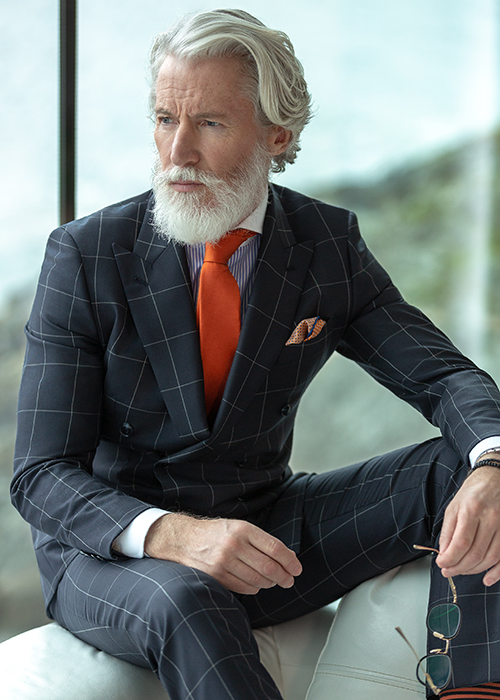 We highly recommend going one step further with a bespoke black tartan suit. They have become a quiet luxury of Christmas attire, blending traditional Scottish aesthetic with an elevated modern touch, and are sure to get you noticed by your colleagues. 
The Smart-Casual Office Party
With the smart-casual office party, there are numerous options you can explore. We advise you to stick with the foundations of the suit, i.e the jacket and trousers, but could change out the shirt for either a quality plain T-shirt or a roll-neck sweater. This will ensure your outfit fits with the theme but allows you to relax and adjust your style as the evening progresses.
While black or dark blue seem the most fitting colours to choose from, any combination of colours here will work well but we recommend keeping the colour palette dark and choosing a double-breasted jacket for an elegant finish. 
2. Preparation is key 
The second point to consider is your lead-up time. You'll want a suit that is exquisite in every manner so that you look and feel great during the drinks, dining and dancing. For this reason, we recommend choosing a bespoke suit that can see you through this festive season and beyond. 
A well-tailored suit requires a few weeks to craft. At Andrew Brookes, we recommend 5-7 weeks' notice so there's enough time for any amends and finer details. Start planning early November as most office Christmas parties take place in December. This will also give you ample time to have one-to-ones with your tailor to discuss all your options and any personal details that you want to incorporate into your suit, such as a bespoke lining, tartan, accessories and more.
Once you have faced these two tasks head-on, it won't be long until you're rocking around the office Christmas tree. 
At Andrew Brookes, we are leading suppliers of bespoke suits in Edinburgh and have decades of experience in creating sophisticated tailored suits for any need and requirement. Our tailoring is modern, handmade, and always explicitly tailored to your unique personality and style. So, to ensure your suit accurately reflects your individuality and taste this Christmas, book an appointment today and begin your journey today.