The Best Denim Shirt Outfits For Men
29 June 2023
Denim shirts have without a doubt become a staple in men's fashion. Thoughts immediately run to anything from the King of Rock and Roll himself to the quintessential Canadian tuxedo à la Justin Timberlake. The denim shirt has endless versatility, and it's almost a cheat code to easily elevate your style game. 
However, with so many style combinations available, you may need help finding the best combination that suits your style. So, whether you're trying to channel your inner Elvis or just be best dressed at the next summer BBQ, we're going to guide you on how to best use a denim shirt in your outfits.
What is a denim shirt?
The denim shirt traces its roots back to the working-class attire of the late 19th century and was for a long time considered a garment representing rebellion and individuality. This cultural symbol reflected the material's rough and sturdy nature, making it a truly distinct article of clothing. Since the late 90s, the denim shirt has trickled its way into formal attire and gentlemen have come to appreciate its transformative powers, which is why we have come to see denim shirts worn in almost any formal and casual setting.
Why wear a denim shirt?
There's no doubt that in the cyclical world of fashion, denim shirts have stood the test of time and held staple status. With an ability to be both rugged and refined, they can suit every style of gentleman and are a must-have for any style-conscious man.
For those days you want to give off a Steve McQueen cool and casual look, your denim shirt will effortlessly exude a relaxed and laid-back vibe. Or, if you want a shirt that will seamlessly take you from business casual to dinner and drinks, the denim shirt's durability and sturdy construction will ensure you're looking your best from morning till night.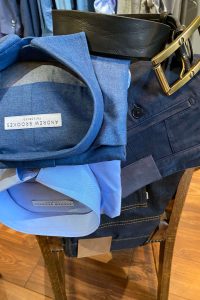 When to wear a denim shirt and when to avoid it?
We've spoken about the denim shirt's ability to charm its way through a number of settings and spaces, however, there are certain moments when it perhaps shouldn't be your number-one go-to. Here are some ideas to help you navigate when to wear and when to avoid a denim shirt:
When to wear a denim shirt?
Casual outings – buttoning up in your best blue for your weekend errands, summer BBQ, or family functions is a great way to lay into the relaxed atmosphere of these events whilst still looking stylish.
Smart-casual events – got an after-work drinks event with colleagues? Perhaps a coffee date? When paired with the right trousers, your denim shirt is good to go even in smart-casual events like the one just mentioned.
Relaxed work environment – slightly too casual to be considered formal office attire, however, your denim shirt is more than perfect for more laidback or creative work environments.
When to avoid a denim shirt?
Formal business settings – for corporate settings, you should maintain a professional aesthetic and stick to tailored dress shirts or attire that adhere to the company's dress code.
For conservative formal events – for weddings, religious ceremonies, funerals etc. it is again best to avoid a denim shirt. They are too relaxed for the atmosphere and will certainly look out of place.
Job interviews – a denim shirt can be considered too casual for a job interview and your potential employer may make assumptions about your character based on your appearance. In this case, opt for a formal shirt.
How to choose the right style and colour for a denim shirt?
Choosing the right style and colour of denim shirt for you will ultimately come down to personal preference. However, for beginners and novices alike, we have some tips that will choose a denim shirt that perfectly enhances your style:
Consider the Fit
Like most shirts, denim shirts come available in a range of cuts including, slim, regular, relaxed etc. The best cut for you will depend on the look you're trying to achieve. A regular or relaxed cut will give a laid-back look, whereas a slim fit will help you navigate more semi-formal events. Read our previous blog post about the benefits of buying bespoke shirts over ready-to-wear.
Personal Preference
Finally, always consider your unique style and aesthetic. There is no right answer except what's suitable for you. If you're a lover of classics, then a slim-fitted indigo denim shirt is for you. Whereas for those who like a more contemporary or edgy vibe, a lighter-washed, distressed style will reflect your fashion sensibilities more.
Wash and Colour
You can find a denim shirt in an array of washes and shades, each offering a distinct look. If you're just entering this world, we recommend a classic indigo wash as a versatile and timeless option. However, if you're adding to an existing wardrobe of denim shirts, then venture into lighter washes such as a stone or acid wash. These will give your appearance a more vintage and worn-in look. Alternatively, a dark wash will add a touch more sophistication when it's needed.
How to wear a denim shirt with jeans
Wearing a denim shirt with jeans is a classic look that emits a sophisticated and effortlessly casual feel. Here's how to combine a denim shirt with jeans for men:
Double Denim
For a classic and rustic appeal, opt for a double denim combination. Wear a denim shirt with jeans in a different wash or colour. Choose a darker-wash denim shirt with medium or light-wash pants to balance out the overall look. Make sure there is enough contrast between the colours to avoid a monotonous look. Tucking in the shirt offers a more polished and refined image, but leaving it untucked creates a relaxed and informal vibe. Take a look at our tailored denim section for the perfect fit.
How to wear a denim shirt with shorts
Wearing a denim shirt with shorts creates a trendy and relaxed summer style. Here's how to combine a denim shirt with shorts:
Select the Correct Length
For a modern and flattering fit, choose shorts that hit just above the knee or slightly higher. Shorts that are too large or wide can dominate the denim shirt and produce an uneven image.
Colour Coordination
Consider the neutral colour scheme of your denim shirt and shorts. Pair a light-wash denim shirt with neutral-coloured shorts like khaki, beige, or navy for a basic and flexible style. This combination results in a clean and balanced appearance. Alternatively, for a more striking appearance, try contrasting colours.
How to wear a denim shirt with a suit
For certain instances, wearing a denim shirt with a suit might be a trendy and modern choice. Here's how to wear a denim shirt with a suit:
Suit Colour and Fabric
When wearing a denim shirt with a suit, choose a neutral colour such as navy, charcoal grey, or light grey. The traditional colours serve as a neutral backdrop for the denim shirt. Select a suit fabric that corresponds to the formality of the event or occasion. Wool or wool-blend suits are appropriate for more formal settings, whereas linen or cotton suits are more casual.
Fit is Everything
Make sure your denim shirt and suit fit properly. The suit should be tailored to your figure, with the shoulders of the jacket sitting comfortably and the trousers trimmed suitably. The denim shirt should also fit properly, slim or tailored. Proper fit improves your overall appearance and gives you a polished and put-together appearance. Take a look at our blog post on the importance of a tailored suit for more ideas.
How to wear a denim shirt with chinos?
Wearing a denim shirt with chinos is a smart and adaptable look that can be dressed up or down. Here's how to combine a denim shirt with chinos:
Colour Coordination
Choose chinos that suit your denim shirt. Neutral-coloured chinos such as khaki, beige, olive, or navy offer a traditional and adaptable style. This ensures a well-balanced and harmonious ensemble.
The Right Fit
Check that your denim shirt and chinos fit properly. A well-fitted denim shirt should be tailored or slim, whereas chinos might be slim or regular fit, depending on your style. For a polished appearance, avoid either baggy or too-tight clothing.
How to wear a denim shirt with a blazer?
Wearing a denim shirt with a blazer can create a stylish and sophisticated look that effortlessly blends casual and formal elements. Here's a guide on how to wear a denim shirt with a blazer:
Choose the Right Blazer
Opt for a blazer in a complementary colour that pairs well with denim. Navy, charcoal grey, or a light grey blazer are versatile options that work well with denim shirts. Ensure the blazer fits you well and complements your body shape.
Balance the Aesthetic
The key to wearing a denim shirt with a blazer is to strike a balance between casual and formal elements. Opt for a blazer with a modern or slightly relaxed fit to complement the casual feel of the denim shirt. This helps maintain a cohesive and stylish look.
Pair with Chinos or Suit Trousers
When wearing a denim shirt with a blazer, opt for chinos or suit trousers as bottoms. Choose a pair in a complementary colour to the blazer and denim shirt. This creates a cohesive and well-put-together outfit. Avoid wearing jeans with a blazer to maintain the right level of formality.
By now we hope we've inspired you to put together a few outfits with your favourite denim shirt. Above all, our premier style tip is to lead with confidence. For more inspiration and ideas on styling denim, read a blog post we wrote before on key denim essentials. You can also browse our tailored shirts for the perfect bespoke fit.