Why Bespoke Shirts are Better than Ready to Wear
24 May 2022
When people hear of tailor-made shirts, the mind immediately runs to status and cost. We associate bespoke design with the likes of CEOs, celebrities and Royals and those who stand out from the everyday crowd. However, this myth is about to be debunked as we're here to tell you that bespoke shirts are not as exclusive as you may think, they're also far more reasonable in cost than you've been led to expect, and that they're a much better investment than any ready-made shirt.
Read on to discover why your next shirt should be a bespoke one.

The Difference Between Ready to Wear and Bespoke Shirts
You are likely to know there is a difference between a bespoke and ready to wear shirt, but you may be unsure about what sets them apart.
Bespoke or tailor-made shirts are made specifically to fit an individual. This is done by a skilled tailor who will take accurate body measurements during a fitting. Without a client's measurements, a shirt cannot be bespoke.
All things are considered during this process including posture, body shape, movement etc. which can only be accounted for by a trained eye. Once these measurements have been taken, the tailor will be able to draw up a pattern for the shirt and add any personal details that the client may like from cloth to buttons and stitching. In this way the shirt is completely bespoke and individual, something that a retailer will never be able to replicate.
A ready to wear shirt is one that is often bought off the rack in a retail store. The cut and style of these shirts have been predetermined by the retailer or brand. These measurements are based on general male sizing and so you'll find that often these shirts will not fit you exactly right in some areas and so consumers will always be compromising the fit of their shirts. We've all experienced a shirt that fits in general but suffers from perhaps overly long or short sleeves, a collar that's too tight or loose, or even suffers strained buttons where the general sizing simply does not match your body type. Sadly, this is unavoidable with ready to wear shirts.
Benefits of Bespoke Shirts
Unrivalled fit
The significant power of clothing is not to be dismissed. When you look good you feel good, and an expertly crafted shirt will do just that. Think of that moment in Casino Royale when James Bond slips on that tailor-made suit – it's the moment he takes a step forward to becoming a more confident, more sophisticated Bond.
The value for money with a bespoke shirt will be very evident when wearing your shirt, the fit will be perfect and will speak for itself in every stitch. The purpose of bespoke is to show off your body shape in the most flattering way possible – something ready to wear can never achieve. A tailor will be able to ensure your shirt fits absolutely perfect and highlights the best of you.

Full creative control
The client has total creative control over the design process making the whole garment an investment of both time and money. You can highlight your own unique style with your shirt and get your garment looking exactly how you want it to. If you like to design your own patterns, you can get your tailor to incorporate this into the shirt in any way you like. If there are certain buttons you own and want to use, whether they be sentimental or simply stylish, your tailor can build your shirt around them.
There is rarely a limitation in the design of your shirt, whereas ready to wear shirts will tend to replicate the trends circulating at that time. The whole bespoke fitting ensures your tailor takes the time to get to know you, your personality, likes and dislikes as part of the collaborative process so your shirt is a piece that encapsulates your unique character. You can remain a classic in a world full of ever-changing trends.
Spend less over time
A bespoke shirt has a higher upfront cost than most ready to wear shirts due to the time and expert craftsmanship that goes into making the garment. A bespoke tailor will generally work with the highest quality materials too which will add extra value to the time. Looking at high street options, ready to wear shirts are not always budget-friendly. High-end designers have their own ranges of ready to wear suits and will sell them at a premium, but consumers will still be compromising the fit of their shirts as they are cut to fit a general size range.
Therefore, buying a bespoke shirt will mean your shirt will last longer due to the materials being used, and also save you time and money on trying to find a ready to wear shirt that fits right and isn't durable enough for frequent wear. What's more, should any issues occur over time with your bespoke shirt, they can be fixed easily by a tailor and last for years without compromising anything. Therefore, the longevity and fit of a bespoke shirt are unmatched.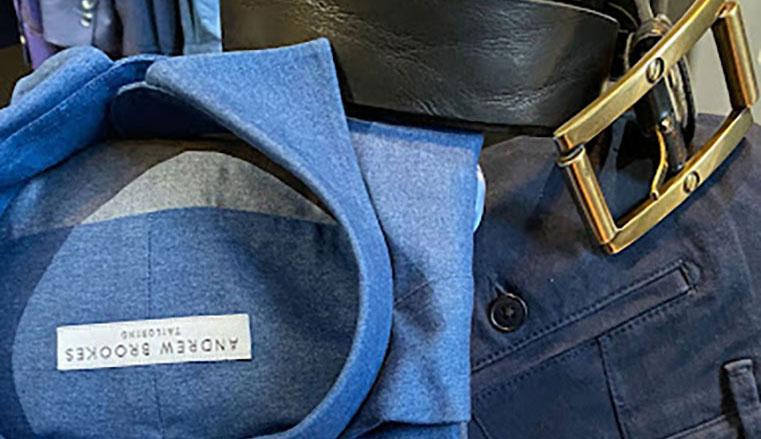 Bespoke shirts at Andrew Brookes
So, if you weren't already convinced, then we're sure you are that bespoke is unfailingly better than ready to wear. If you're ready to take the plunge and get a bespoke shirt made, we always recommend going to a well-reputed and expert tailor.
Here at Andrew Brookes, we are leading tailors in Edinburgh and have been crafting timeless, elegant pieces for customers around the world. Our tailoring is modern, handmade and always tailored specifically to your unique personality and style.
For more information on our bespoke services, you can book an appointment here and we'll be in touch about creating something special for you.